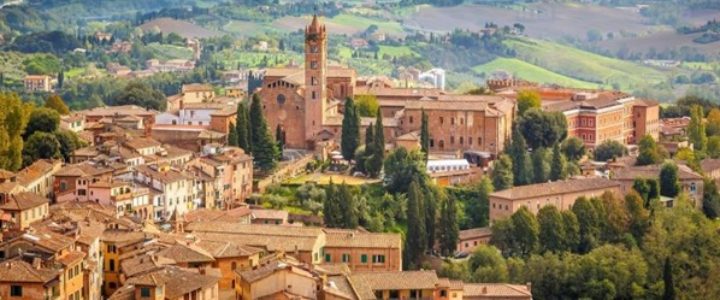 Under the name of territory or district of the berardenga it is implied also in the times of the Republic of Siena the portion of that state comprised between the sources of the torrent bozzone and those of the Amber, between the high Chianti and the Biena river to the arbia taverns. The name comes from the County of the berardenghi, which took its name from one of the sons of Count Wuinigi (giunigi) of Ranieri, belonging to the population of the Franks Salii, who came to Italy as Legate of the Emperor Ludovico il Pio (865)then became political governor of Siena (867-881) and roselle (868). He was called berardo and this name, constantly repeated by his descendants, gave the name also to the territory. The jamb, from where the name of the county berardenga came, undoubtedly, from that Castelnuovo, founded by the Republic of Siena, as a point of surveillance of the border towards Florence and Arezzo, after a resolution dated July 26, 1366. In this period the upper part of the hill was surrounded by walls, entrusting the direction to Mino Dei di Siena (1373-1374). At the same time the foundation was given to Castelnuovo a communal statute aggregating to its district the communes of guistrigona, Pacina, sestano, ripalta, S. Just outside Castelnuovo, S. Quirico, curina, Cerro grosso, Arceno, Orgiale, Nebbina, Vacchereccia, and Valcortese. Today there is a tower and little more. The ancient parish church of San Giusto, located not far from Castelnuovo is remembered long before the castle was built, among the branches of the nearby ancient parish Church of Pacina, known for the first disputes between the Sienese and Arezzo on the diocesan boundaries dating back to the 7th century.
Shortly after the completion of the castle walls, Giovanni acuto, at the head of a Florentine army, arrived in 1382 assaulting him unsuccessfully. Again in 1478 and 1479 the castle was besieged by the Florentines in an attempt to wrest it from the Sienese. These events and other circumstances forced the rulers of the Republic of Siena to increase the fortifications, which were put in place on the fall of the fifteenth century, with a new round of walls, corroborated by seven towers, only one of which still exists.
In 1511 Castelnuovo was ceded to belisario bulgarini, under the title of power, which was succeeded by an individual of the Bellarmati family, who held the castle until 1526, when it returned under the direct dominion of Siena.
In 1554 Castelnuovo berardenga subdued the fate of the motherland, incorporated in the absolute domination of the first Grand Duke of Tuscany.
In Castelnuovo Beradenga we recommend a visit to the Torre dell'orologio and the Landscape Museum