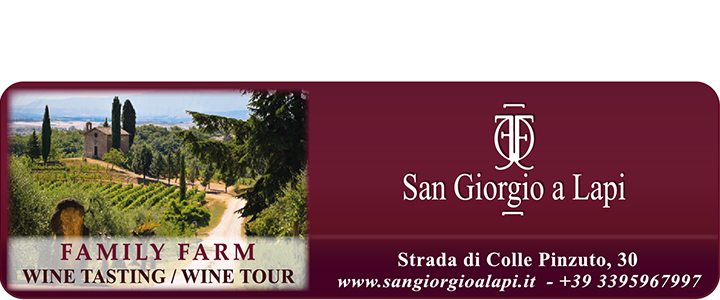 We are in Castelnuovo Berardenga, a remarkable part of the Chianti due to its unique terrain, excellent climate and above all the 'dedicated' people working here. It is at San Giorgio a Lapi where the story of Gallo Nero and Siena cross paths in the production of  brilliant and distinct wines. San Giorgio a Lapi has an ancient history when already in the 1700s wine was produced. Her artistic origins go back to 1109, when the church of San Giorgio was erected.
In the 17th century San Giorgio was mentioned again due to the construction of the chapel which was adorned with  frescoes dedicated to the saint, protector against dragons. These artistic works were consequently restored to the their original ancient splendour by commission of the Simoni family.
Interest and instinct prevailed Aldo Simoni to bring his expertise that he had acquired in the Trentino region here to the Chianti. Since 1977 the events of his family have grown together with the estate of San Giorgio in Lapi. This  complete balance has achieved a perfect equilibrium. In 1999, the first bottles of wine, labeled San Giorgio a Lapi, were presented on the market. Mattia Simoni, one of the artisans in the revival of the estate, worked assiduously on all levels of its organization from management of the vineyards and cantine to perfecting and presenting the excellent Chianti Classico and Chianti Colle Senesi.
The story centers around all the family members starting with the father Aldo, mother Fiorenza, and their children, Mattia, Iari, Luca, Valentina, Alberto  and Marianna. They work together in harmony collaborating with others contributing toward the final product.
Here on the 100 hectares of Chianti at San Giorgio a Lapi, the vines prosper in the unique combination of fertile terrain. The rocky landscape of the Chianti Classico is comprised of a claylike tuffaceous soil. It is the perfect blend  to cultivate together under an ideal microclimate in achieving exceptional wine.  The strong bond with this terrain has benefitted the sangiovese, and all of the other local indigenous grapes, such as colorino, canaiolo, white trebbiano and malvasia.
Monday – Friday  : 08,30 am – 07,30 pm /Saturday: 08,30 am- 02,00 pm /Sunday (open by appointment)
We will walk among the vineyards and olive groves of the Estate, we will visit the small church of San Giorgino of 1100 (symbol of San Giorgio a Lapi) then we'll visit the cellars and discover how our wine borns and ages (cellar for vinification and aging in cask and bottle aging). At the end of the walk, wine tasting with one of the owners of San Giorgio a Lapi.
Tour time: 2 hours e 40 minuts
Guided tasting of three glasses of wine from the company in the charming terrace overlooking the Chianti Classico hills, with a view of the Church of San Giorgio framed by the charm of the Crete Senesi.
Tasting time: 4o minuts

||GpsCoordinates||WebSite||
Strada di colle pinzuto, 30 (SI)
Tel. +39 0577 356836