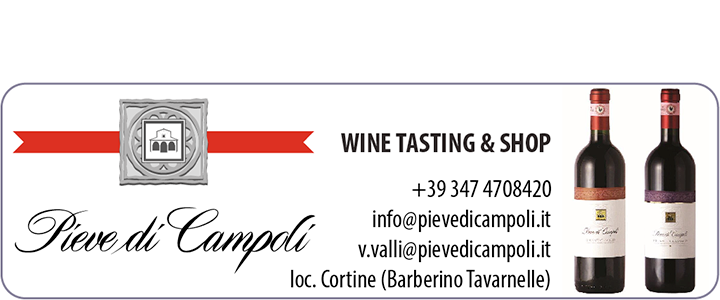 The company
The Diocesan Institute for the Support of the Clergy of Florence was born in 1985, following the new law on the concordat stipulated by the Italian State with the Catholic Church.
The Institute, heir of the centuries-old parish priests, became in that year the owner of the Pieve di Campoli agricultural company, whose registered office is located in Via Dolfi 5/7, Florence. The extension of the company is about 450 hectares which consist of 7 municipalities. The Pieve di Campoli company includes over 50 hectares of specialized vineyards, located in the Chianti and Chianti Classico areas and over 20,000 olive trees planted on approximately 100 hectares of land scattered throughout the province.
The winery is located in Cortine, Barberino Val d'Elsa (Fi), 5 km from the San Donato exit of the Florence-Siena Autopalio.
The company organization is mainly of a wine-making type, with the production of IGT, Chianti, Chianti Classico, Vinsanto del Chianti Classico and limited production of table wine for direct sales.
Alongside the production of wine, there is a substantial production of extra virgin olive oil.
It is clear how viticulture and olive growing represent important commitments, which have led the company administrators to make significant investments for the construction of a modern and functional mill and cellar, for an excellent quality production.
The vineyards
The total area under vines is about 50; of which at the moment has 42 in full productivity.
The vineyards are located on the lands of the municipalities of Barberino Val d'Elsa, Tavarnelle Val di Pesa and San Casciano Val di Pesa.
The main cultivated variety is Sangiovese, associated with minor cultivars, such as: Sirah, Merlot, Petit Verdot, Canaiolo and Colorino, with red berries. As for the white grapes, on the other hand, there is essentially Malvasia and Trebbiano.
The cellar
As mentioned above, the winery is located in Cortine, it is reached via a wide avenue that leads to a large square, a place used for conferring grapes for winemaking. This takes place in stainless steel tanks and reinforced concrete tanks the subsequent wine refinement period is carried out partly in steel tanks and partly in 2.25 hl oak barrels.
Marketing
The company's products are introduced to the market through specialized sales points owned by the company, through large-scale retail trade, wine shops located in the Tuscan territory and mainly Florentine restaurants.
OUR TASTINGS
TOUR AND WINE TASTING – 1h 30min – € 20 pp
visit to the vineyard and the cellar and then to taste 2 types of wine and oil of our production, all accompanied by a taste of local cold cuts or a small sandwich.


TOUR, WINE TASTING WITH LUNCH/DINNER – 2h 30min – € 35 pp
to book at least 2 days before
oil and wine tasting during the lunch / dinner break based on a platter of cold cuts and cheeses, a first course of the season and cantuccini and vinsanto.
.

.
OUR PRODUCTS
---
Pieve di Campoli – Tasting and sales point
Cortine, Barberino Val Elsa (Si) Geographic coordinates
Pieve di Campoli – Oil Mill's and point of sale
Fattoria di Santa Maria Nuova Via colle d'Agnola 1/9, San Casciano Val di Pesa (Fi)  Geographic coordinates