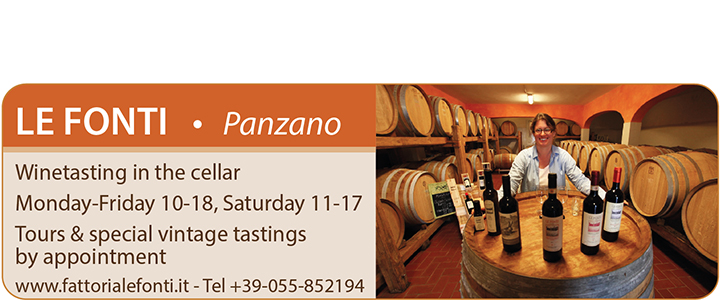 Halfway between Florence and Siena, in the heart of the Chianti Classico region, lies the small village of Panzano. Just below the village church, at 450 m above sea level, is our property, the Fattoria Le Fonti. It extends over 15 hectares (37 acres); 8.5 hectares (21 acres) are vineyards and the rest olive groves. Compared to other vineyards in the area, Le Fonti is a small boutique style farm producing about 40,000 bottles or 3300 cases a year. Since 1994 Le Fonti is in the hands of the Schmitt-Vitali family. From the harvest to the final blend, we depend on family manpower and sophisticated taste. For expert consultation and knowledge, we rely on our enologist Dr Stefano Chioccioli. Since 1994 we have replanted all of the vineyards, taking great care to select the right type of plants with the correct rootstock. We have also renovated and extended the cellars. The roots of a great wine are found in the vineyard and we strive to keep them in balance by farming sustainably (organic). Thanks to our relative small size we can follow the production with great care: only the best grapes arrive in the cellar and only the best selections get bottled in the end.
Wine experiences
Come join us for a cellar tour and a tasting at Le Fonti.
The winery is open Monday to Friday from 10am to 6pm.
Saturday  from 11am to 5pm for drop in tastings.
For winery tours please give us a call or send an email to make an appointment.
During the main season we also organise special vertical tastings of Riserva's and Supertuscan's. 
Please note we're a small winery and can only accomodate small groups.