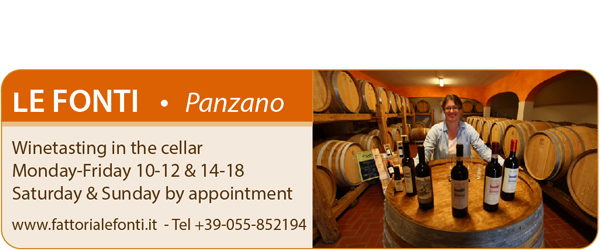 Halfway between Florence and Siena, in the heart of the Chianti Classico region, lies the small village of Panzano. Just below the village church, at 450 m above sea level, is our property, the Fattoria Le Fonti. It extends over 15 hectares (37 acres); 8.5 hectares (21 acres) are vineyards and the rest olive groves.
Compared to other vineyards in the area, Le Fonti is a small boutique style farm producing about 40,000 bottles or 3300 cases a year. Since 1994 Le Fonti is in the hands of the Schmitt-Vitali family. From the harvest to the final blend, we depend on family manpower and sophisticated taste. For expert consultation and knowledge, we rely on our enologist Dr Stefano Chioccioli.
Since 1994 we have replanted all of the vineyards, taking great care to select the right type of plants with the correct rootstock. We have also renovated and extended the cellars. The roots of a great wine are found in the vineyard and we strive to keep them in balance by farming sustainably (organic). Thanks to our relative small size we can follow the production with great care: only the best grapes arrive in the cellar and only the best selections get bottled in the end.
We are looking forward to welcoming you to Le Fonti for a wine tasting or a cellar visit. For larger groups (more than 10 people), please contact us to make an appointment
Vineyards
Le Fonti's vineyards are situated just below the village of Panzano, resembling a horseshoe-shape around the winery. Since 1994 all the vineyards have been replanted with selected rootstocks and plants adapted to our area, elevation and soil type.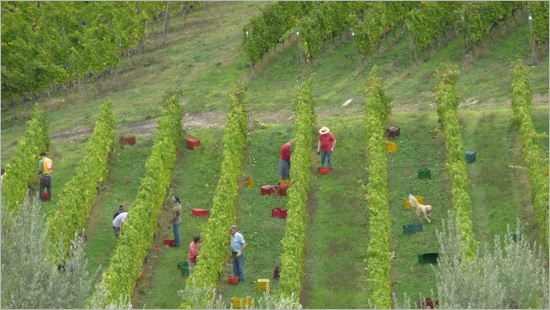 The vineyards are farmed sustainably to save the integrity of the environment.We strongly believe that a great wine starts in the vineyard and thus take meticulous care of our vines and select only the best grapes for the cellar.
The vineyards are planted on a mixed soil of gravel, schist, limestone, sand and clay – a soil mixture also known as Galestro. The composition of soil differs throughout the property and our vines are planted to use this to their best advantage.
The Merlot vineyard, for example, is in a place where we used to have Sangiovese but due to the high content of clay and sand this soil made the growing of Sangiovese often difficult and the grapes suffered especially after heavy rains. For the Merlot in the same spot these problems are almost non-existent and it proved to be an excellent choice to let nature help itself.
Overall we have almost 85% Sangiovese vines, with the remainder equally divided between Merlot and Cabernet Sauvignon vines.
Tel: +39 055 852194
Fax: +39 055 852517