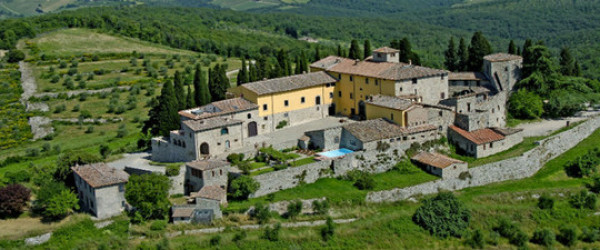 The Cacchiano Castle is located in the heart of the Chianti region and was founded in the 10th century by the Ricasoli family(that owned the castle for more than 1.000 years) , a prestigious noble family with Longobard origins dating back to the age of Charlemagne.
The numerous archaeological finds discovered in this area and their particular relevance prove that the origins of the castle go back to the Roman period.
During the Middle Age, the Castle of Cacchiano,  played a crucial role in the battles between Florence and Siena defending, together with the Castle of Brolio, the Florentine territory against the Sienese and their alleys.
A thousand year long history
The Castle maintained its function as a defence structure of the territory until the middle of the 16th century when it was transformed into a villa. During the past centuries the first medieval and Renaissance walls were enlarged and some new buildings as well as a small church were built so that the Castle  has taken on the aspect of a stately fortified Castle complex.