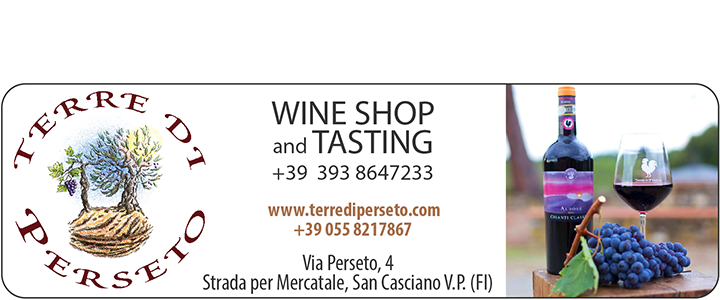 All during the year, Terre di Perseto organizes unforgettable wine and food tasting and truly special events to discover the culture of wine. To offer a unique wine tasting experience we have selected the best local products.
Tuscany is a very rich region in terms of food and tradition, for this reason we cooperate with small artisans of the region to offer fresh and genuine products for each season
OUR TASTINGS
"VIN SANTO E CANTUCCINI" TASTING – € 7
The "Vin Santo" is a typical Tuscan liqueur, which will be accompanied by "cantuccini" (typical almond-based biscuits that the Tuscan tradition provides to be enjoyed soaked in Vin Santo).


WINE TASTING – € 10
4 wines: IGT Toscana Rosato, IGT Toscana Rosso, Chianti Classico and Chianti Classico Riserva.


OLIVE OIL & WINE TASTING – € 13
4 wines: IGT Toscana Rosato, IGT Toscana Rosso, Chianti Classico and Chianti Classico Riserva. Toosted Bread with Extra Vergine Olive Oil


WINE AND BRUSCHETTE – € 16
4 wines: IGT Toscana Rosato, IGT Toscana Rosso, Chianti Classico and Chianti Classico Riserva. Toosted Bread with Extra Vergine Olive Oil, alives cream, chicory cream, peppers cream, tomato and basil (only in summer) pecorino chees and bacon


TRADITIONAL TASTING – € 25
4 wines: IGT Toscana Rosato, IGT Toscana Rosso, Chianti Classico and Chianti Classico Riserva. Toosted Bread with tomato and basil and/or Toosted bread with extra vergine olive oil, tipical tuscan cheese selection, tipical tuscan salami and ham selection, mixed grilled and marinated vegetables


Terre di Perseto || geographic coordinates || WebSite ||
Via Perseto, 4 Strada per Mercatale-San Casciano V.P. (Firenze)
tel. +39 055 8217867