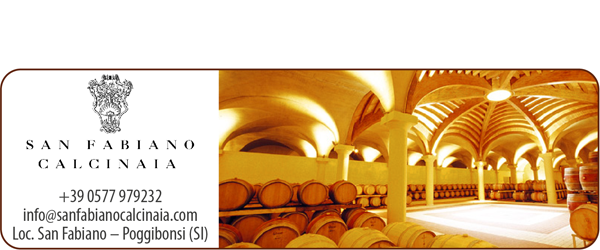 The Farm
Guido Serio and his wife Isa arrived at San Fabiano in 1983 and immediately made investments aimed at producing quality wines. They have gradually made progress over the time, renewing the vineyards, the wine-making chain, the bottling and the cellar for refining the wine in wooden barrels.
San Fabiano Calcinaia produces wines appreciated all over the world: Chianti Classico vintage, Chianti Classico Riserva "Cellole", Cerviolo Rosso Igt, Cabernet sauvignon Igt, Casa Boschino Igt, Cerviolo Bianco, a small production of the traditional Vin Santo of Chianti Classico, and of Grappa of Chianti Classico "Cellole"; as well as, of course, the perfumed and fragrant extra virgin olive oil.
The farm of San Fabiano Calcinaia is located among the hills of the prestigious Chianti countryside.
The territory of Chianti Classico, which stretches between Florence and Siena, has kept intact, for the most part, its appearance. The agriculture constitutes the predominant activity, an aspect that made this country unique.
Not only! The work and dedication of man have further amplified the natural beauty of the place. For the characteristics of climate, soil and altitude of the land in this area is particularly suitable for the production of fine wines. Pride of this region is Chianti Classico wine.  In Castellina the Consortium of Chianti Classico in 1924 was formed , and the wine obtained the prestigeous name of DOCG in 1984.
Visit to the cellar and Wine Tasting
San Fabiano Calcinaia organizes guided tours in Italian,English, French and German in our wine estate and cellar from 2 up to 25 persons with tasting of wines, oliven oil and grappa, but also of tipical tuscan food. Our tours are exclusive and can be personalized: our guests can choose among different types of tasting and of visits.
For further information or reservations, don't hesitate to contact us to this following numbers:
+39 0577 979232 or +39 3357455428  (ask for Federica)
In the estate there are 6 good restored apartments available , all furnished in Tuscan Style that can guest people that want to pass some days in the peace of the Siena country.

Loc. Cellole – Castellina in Chianti (SI)
Tel. +39 0577 979232