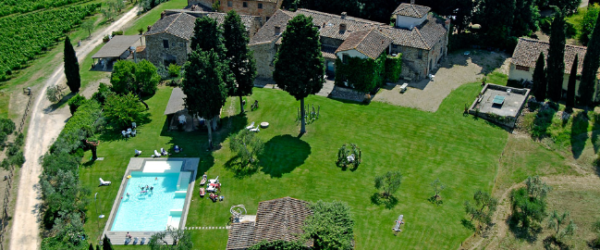 THE SPIRIT OF THE TUSCAN RENAISSANCE
Completely immersed in a natural environment and surrounded by olive trees and by its own vineyards, the Fattoria La Loggia is in the heart of the Chianti Classico, 15 km. to the South of Florence, and is placed on top of a hill from which you can enjoy a panoramic view of great beauty and fascination.
Various works and sculptures of major contemporary Italian and foreign artists are installed in some of the most attractive part of the village and in the gardens of the master's villa.
FLAT & SUITES
THE FLATS AND THE ROOMS ARE THE PRIDE OF THE FATTORIA LA LOGGIA
Hereunder is one of our most exclusive rooms that exactly holds and expresses the quality and style of our hospitality.
The ancient wooden rafters of the ceilings, the floors, the big stony fireplaces, the charm of the period furniture together with that of the contemporary art paintings on the walls: this is the warm atmosphere and the style of all our rooms and of our flats.
The apartments and the bedrooms are fitted out with fully equipped kitchens, telephone, satellite Tv, Wi-Fi, safes and heating.
PRODUCTS AND TASTINGS
THE EFFORT AND ITS REWARD
Nothing like wine manages to be both symbol and expression of a land and of its generosity and vigor.
Nothing like wine manages to be both symbol and expression of a people and of its value and its labors.
Nothing like wine manages to be both symbol and expression of a prize, Hard earned, long awaited and generous.
In no other part of the world are land, wine and people so fused in an ancient and unique nexus as in Tuscany and as in Chianti Classico.
For us at the Fattoria La Loggia, wine is the symbol of hard, meticulous work and of knowledge handed down from the distant past, from the times of the Medicis, the first owners of the estate.
It is the symbol of a daily commitment imposed on us by our tradition, the same that has made the Black Rooster the distinctive sign of one of the world's greatest and most lovely wines.
TASTINGS
For us it will be a pleasure to welcome you and arrange for you exclusively a taste of our wines paired with seasonal bruschetta, flavored by our olive oil, surrounded by spectacular scenery.
Via Collina, 24, 50026 San Casciano in Val di pesa FI
 San Casciano in Val di Pesa (FI)
 Tel. +39 055 824 4288
Mob. +39 348 7246675