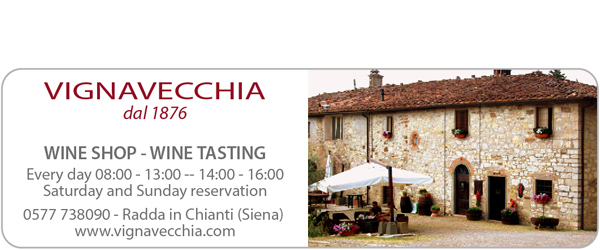 Fattoria Vignavecchia is located in the Province of Siena, about one kilometre outside the town of Radda in Chianti, and commands a spectacular view.
The estate extends over 42 hectares, including 19 hectares of vineyards and 3 of olive groves. The remaining land is covered by coppice and tall stem woodlands, so typical of the Tuscan hillsides.
In 1996 the Estate transferred its main offices from the historic Palazzo Beccari, in Radda's town centre, out to the 19th-century Vignavecchia main farm building, a typically Tuscan construction. Extensive renovation work included the enlargement and the technological rehabilitation of the cellars, to ensure that they were suitable for winemaking, aging and packaging; once all the refurbishment work was completed the Estate moved its headquarters to these facilities which also include two apartments for the staff.
Vignavecchia vineyards grow on Pliocene soils consisting mainly of clayey schists, rich in skeleton, at an altitude ranging between 410 and 500 metres asl.Chianti Wine
The grape varieties grown here are Sangiovese (70%), Canaiolo (10%), Merlot (10%), San Colombano (Verdea) (5%), Malvasia and Chardonnay (5%).
On soils like these, at these altitudes, the growth cycle of vines continues well into the second half of October; the grape harvest hardly ever begins before the second week in October.
At Vignavecchia the wines made from Sangiovese and Canaiolo grapes do not present deep or rich colour hues, but they are densely perfumed. The intense, elegant scents are the result both of the increased chlorophyll synthesis (brought about by higher UV radiation), and of the combination of lower temperatures and higher altitudes at which the vines are grown.
The characteristic features of Vignavecchia wines include: an excellent degree of acidity, a moderate alcoholic content, and a great aging potential.