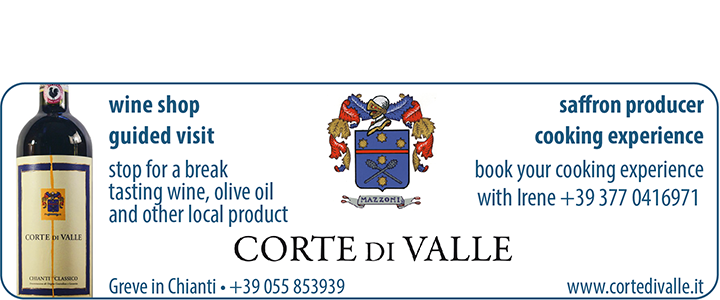 Thanks to its position and structure Corte di Valle Agriturismo is a great choice for any type of holiday – cultural discovery, enogastronomic adventure or a get-away from it all relaxation by the poolside. Enjoy the fantastic nature that Tuscany offers, immerse yourselves in the centuries old traditions of Chianti, be transported by the magnificent architecture of the nearby cities of art (Florence, Siena, San Gimignano, Volterra), all this accompanied by total relaxation in a welcoming and soothing environment. All essential ingredients of a holiday that will restore you completely, body and soul….local products typical of Tuscany cooking. In our farm shop you can taste the specialities of Corte di Valle – our Chianti Classico and IGT wines, extra virgin olive oil and our saffron based products.
OUR TASTINGS
In the months of May and October open daily from 12 to 17 ; from June to September open daily from 10 to 19
Wine Tasting – € 4 (free if you buy wine)
Tasting 3  Wines
Wine Tasting + Tour – € 15
Visit of the cellars + Tasting 4  Wines +Tasting Oil, Saffron and other typical products
Wine Tasting + Food – € 29
Visit of the cellars + wine tasting + a glass of wine at your choice + plate of "antipasto toscano" (pecorino cheese, ham, salami, bruschetta) + taste of dessert wine and saffron cookies.
Cooking Classes
The lessons are held in the kitchen of the agriturismo upon request. Naturally the dishes that you prepare are then served for lunch or dinner and combined with a tasting of our wines>>
 All our other products can be bought directly from our shop or ordered on-line
||OUR WINES|| OUR OIL || SAFFRON ||
Corte di Valle ||Gps coordinates || Web Site ||
SR 222 Chiantigiana km. 18,5 – Località Le Bolle
Greve in Chianti (FI)  Ph:  +39 055 853939