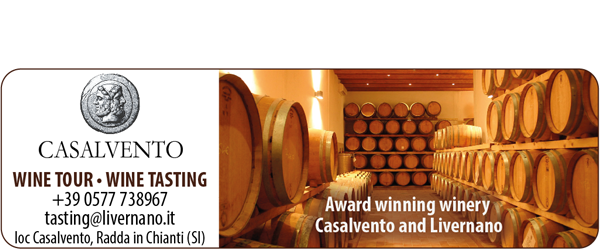 The house of Casalvento is situated in the heart of the Chianti Classico region. Purchased in 1997 by visionary entrepreneur, Robert Cuillo and his wife, Gudrun, a complete restoration was undertaken, bringing the property back to its former beauty.
Today, with the addition of a state of the art CANTINA (wine cellar), surrounded by woods, and built in harmony with the surrounding countryside,Livernano and Casalvento emerged as premier operating estates in the Chianti Classico region, producing multiple award winning, highly rated wines.
Situated 600 meters above sea level, the vineyards are the perfect combination of tradition and innovation: The fruit of the collaboration between the owners and internationally renowned enologist, Stefano Chioccioli. All the grapes are grown enviroinment friendly.
Livernano is not only an Agriturismo but also a Top Winery awarded with many prizes along the years such as "Tre Bicchieri" from Gambero Rosso Guide (the most important award for a wine in Italy) or the Gold Medal at Los Angeles County Fair in USA as well as high ratings on Wine Spectator and other wine guides.
On request it is possible to visit our state of the art wine cellar situated 10 minutes away from Livernano by car: you'll have the chance to experience the most high tech and fascinating way of winemaking walking inside our new Cantina.
While visiting the wonders of our state of the art cellar and in tasting our wines, you will come to understand the concept of terroir, and you will learn how Chianti Classico is made, how to distinguish the characteristics of the main grape varieties, and much more
We'll be pleased to organize your trip and wine tasting, please feel free to ask for information.
---
 Sunflower Tour  & Sunset 

Tour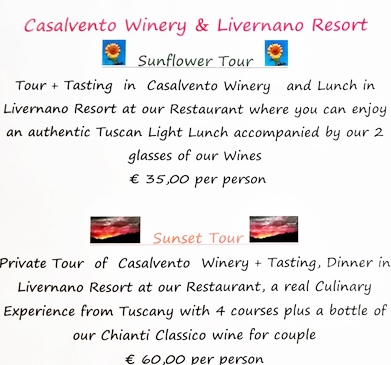 ---
  Winery Tour
 Departures at 12,00  and  14,30
 On reservation . telephone +39 0577 738967
---
Wine Tasting
 Every day from 12,00 at 14,30

Casalvento, Loc Casalvento Radda in Chianti (SI