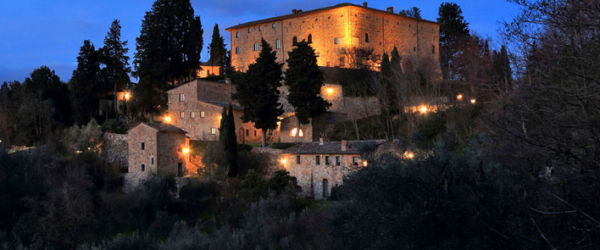 Erected by the Cadolingi of Montecascioli, the Castle of Bibbione, in Chianti region, is documented in the very ancient manuscripts from the year 997 by the name of Castrum Bibionis. Surrounded by city walls, which in the past served as a final defence for its inhabitants, the Castle dominates a medieval village and ancient houses dot the slope of the hill. Its lands extend to below the Via Cassia and the Pesa River, between Florence and Siena.
The foundations of the Castle go back to the 9th century and the construction was completed in year 1000, while the first group of stone farmhouses dates back to the latter half of the 13th century.In the Renaissance, the battlements were removed and the fortification was then transformed into a country residence.
A particularity of the Castle is the underground passage which winds its way for hundreds of meters down to the river plain. This secret passage, certainly used for supplies during the sieges, has only been explored in its first section…read more
Today the Castle of Bibbione is a beautiful farmhouse in Chianti, with pool and spa, near Florence.
Bibbione Castle is composed of farmhouse with pool on the Chianti hills and a villa with private pool which can accommodate up to twelve people, four bedrooms and four bathrooms.
The apartments of the farmhose can accommodate from two to six people. Apartment guests have access to the shared pool open from May to October that overlooks the hilly landscape of the Chianti area, between Florence and Siena.
The villa "Il Poggio" is a farmhouse surrounded by olive trees that enjoys a splendid view of the Tuscan countryside, surrounding the whole area of the Castle of Bibbione. The villa can accommodate up to twelve people and gives access to the beautiful pool surrounded by greenery of the private park.

Via Collina 66 – 50026 Loc. Montefiridolfi
San Casciano in Val di Pesa (FI)
Tel. +39 055 8249231
Cell. 39 335 8106514

  Web Site